Dental Implants: what you need to know about them
What are Dental Implants?
Dental Implants are one of the ways to replace a missing tooth or teeth. It is the best way to replace teeth because after a tooth is removed, the bone is lost over time. An implant is screwed into the bone and so stops the bone levels reducing.
A dental implant is a titanium screw that is placed into the bone and then has a crown that is fixed on top.
How many Dental Implants will I need?
This is not a simple answer. The dentist will have to check the space you have and help design a treatment plan that is suitable for your needs. If there is anything you require further clarification on, it is important to ask. 
What does the treatment involve?
All treatment is carried out in the chair and you will require a local anaesthetic to numb the area that you will receive the implant in so you will not feel anything. Cuts are made into the gum so that you can have the implant screw placed.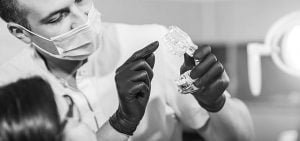 Do I qualify for Dental Implants?
Generally, everyone is able to have an implant. But just like everything, there are certain patients that unfortunately won't be able to have an implant. Those who don't qualify are people with:
Teeth that are not healthy or suffering from periodontal disease

Complex medical conditions

If you are a smoker, the implant is more likely to fail sooner due to all the complications that arise with the tobacco on your oral health. Equally, if you drink excessively then you are also at greater risk of implant failure, as this affects the healing around the implant.

Dental Implants for smokers

If you smoke, maybe now is the time to quit smoking. This will give you endless health benefits and also increase the chances of a successful Dental Implant. 

Dental Implants for health conditions and periodontal disease

If you have periodontal disease then focus on your oral hygiene in order to combat the disease. Once you have stable gums for at least 6 months, you will qualify for treatment.

Unfortunately, if you are on blood thinners or have a complex medical history there isn't a way to qualify. If you are still interested in having your teeth replaced, check out the alternative options for implants

What if I don't have enough bone?

This makes your treatment slightly more complicated but there are options of growing/ transplanting new bone if required.

Once I have an implant is that it?

An implant may require maintenance, for example to the crown or any other structures of the implant. In the same way that your teeth require maintenance from time to time, this may be the case with an implant.

 

How long does an implant last?

If it is looked after well and there and you don't have any habits such as grinding that could affect the implant, then they should last as long as 20 years.

 

I am nervous about this treatment, what are my options?

Please discuss your concerns with the dentist. Usually, when all is explained and you are aware of what to expect, you won't feel as nervous. Our staff are friendly and superb at helping you calm your nerves. 

How much does an implant cost?

To get a price for your specific case, simply contact us today to book your free consultation or to find out more.

How am I expected to pay the full amount?

Don't worry we don't expect you to pay the full amount upfront, at Spa Dental Clinic we have a finance plan that helps you get the treatment you want for a suitable payment structure. 

What are the alternative options for replacing teeth?

 

An alternative to Dental Implants is Valplast Dentures. They are a non-invasive dentures option which can be made quickly and precisely and incorporate beautiful aesthetics alongside all the fundamental requirements of a denture.

Dental Implants at Spa Dental Clinic

To find out more about Dental Implants then please contact Spa Dental Clinic and your dentist will attend to your issue. Contact us today to book your free consultation to find out the best solution for you.

If you have any feedback about this information then please let us know and this will really help us to help you.