Dental Veneers Procedure - What to Expect
The typical dental veneers process requires two visits to your dentist. The first appointment for a detailed consultation, followed by a second appointment where your dentist will carry out the veneers procedure.
The veneers procedure begins with your consultation. During your consultation, you will have a chance to discuss what you are hoping to achieve with your dentist. Your dentist will examine your teeth to ensure that dental veneers are appropriate for you and give you a breakdown of what the veneers procedure entails.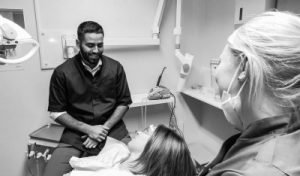 Appointment 1 – Preparation 
One of the first steps of the veneers procedure is to have some x-rays and impressions made of your mouth and preparation work done to your teeth. 
To prepare the teeth for the veneers procedure, your dentist will need to slightly reshape the tooth's surface, also known as the enamel. Reshaping the natural tooth surface allows for the veneer to fit comfortably and naturally in the mouth. Reshaping the surface of the tooth can result in a sensitive sensation, so you and your dentist will decide if you wish to use a local anaesthetic during this process.
After the enamel has been removed, your dentist will take an impression of your teeth using a mould. This impression gets sent to a laboratory where your dental veneers are created. This process usually takes 2-3 weeks. 
Appointment 2 – The Veneers Procedure
Before your veneers are permanently attached to your teeth, you and your dentist will have time to examine the colour and fit of the veneer to ensure that you are happy with the result. The veneer can be trimmed to achieve a better fit and the colour adjusted with the shade of the cement used to bond the veneer to your tooth.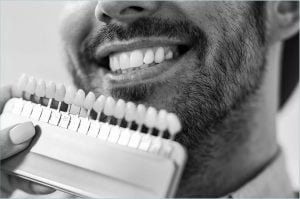 To prepare the tooth for the veneers procedure, your dentist will clean and polish the tooth surface and do some slight etching to roughen the surface. The cement is then applied to the veneer and onto the tooth before being bonded using an activating light that hardens the cement.
Your dentist will make any final adjustments to the veneers and ensure that you are happy with the results.
How to care for veneers

Caring for your veneers is very similar to caring for natural teeth. It is recommended that you brush your teeth thorough
ly and floss twice a day. Consider limiting the amount of stain-inducing foods and drinks that you consume to avoid stains and discolouration. Careful maintenance of your veneers will help them to last as long as possible without the need to replace them.
If you are interested in veneers or wish to find out more about the veneers procedure with Spa Dental Clinic in Droitwich, you can call our friendly reception team today on 01905 773 111 to book your FREE consultation.
If you have any feedback about this information then please let us know and this will really help us to help you.