Why have dental teeth whitening?
Dental teeth whitening is great for that special occasion if you have a single tooth that is a different colour to the rest, or you just simply want your teeth to look whiter!
What does dental teeth whitening involve?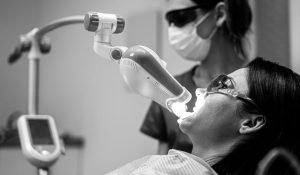 There are certain things that can be removed from your teeth without the need to whiten your teeth. There are stains that form on the outer surface of your teeth that are caused by coffee, tea, smoking and foods such as beetroot for example. If this is the cause for your staining, then there is the option of airflow stain removal, which we offer here at Spa Dental Clinic.
However, the teeth can be naturally dark because of the second layer of the tooth shining through, known as dentine. This can be caused by age, trauma and tooth abnormalities for example. It is common to have a darker shade of teeth. If you have yellow, brown or orange teeth, then Zoom teeth whitening is the option for you!
How do teeth whiten?
The use of a chemical agent called hydrogen peroxide that only dental professionals are able to apply.

It breaks down and this bonds to the tooth to allow it to appear colourless.

The higher the concentration we use, the greater the result of whiteness!
What stains my teeth?
It is really important you limit the number of items that can stain your teeth to prevent the shade relapsing. These include red wine, black tea, black coffee, smoking, curry. You can sometimes have these removed with airflow stain removal alone, so we do recommend you have airflow stain removal before Zoom teeth whitening in certain situations.
Do I qualify for dental teeth whitening?
 You will not qualify for dental teeth whitening If you are:
Pregnant

Under 18

Immunocompromised

A heavy smoker or get stains quickly
What do I need to be aware of if I choose to have my teeth whitened?
It is important that you know the following information:
If you have exposed roots then these will not be whitened

If you have white fillings or any other fillings/crowns then this will not be whitened and you should consider having them replaced after the whitening if you do not like their appearance.
I have just had my teeth whitened but not sure how to carry out the whitening top up at home?
It is great to hear that you have chosen to whiten your teeth, we hope you are pleased with the result. To take care of your teeth, simply follow the instructions provided in your home kit.
I need more whitening gels because I have run out, where do I get them from?
You can get these from the practice – speak to reception for more information when you are next in.
Want your teeth whitened?
You can let your dentist know at your next consultation that you would like to try dental teeth whitening and they can get this sorted for you. Alternatively, contact us today to book your free consultation or to find out more.
If you have any feedback about this information then please let us know and this will really help us to help you.